Services and Supports for People Experiencing Homelessness
Ground Floor Social Work / Case Management
The ground floor social worker team works with community members who are experiencing homelessness and who require case management support, supportive counselling and/or individual advocacy.
Individuals interested in meeting with the ground floor social workers can drop in on Wednesday morning for the WOW clinic or can call for more information.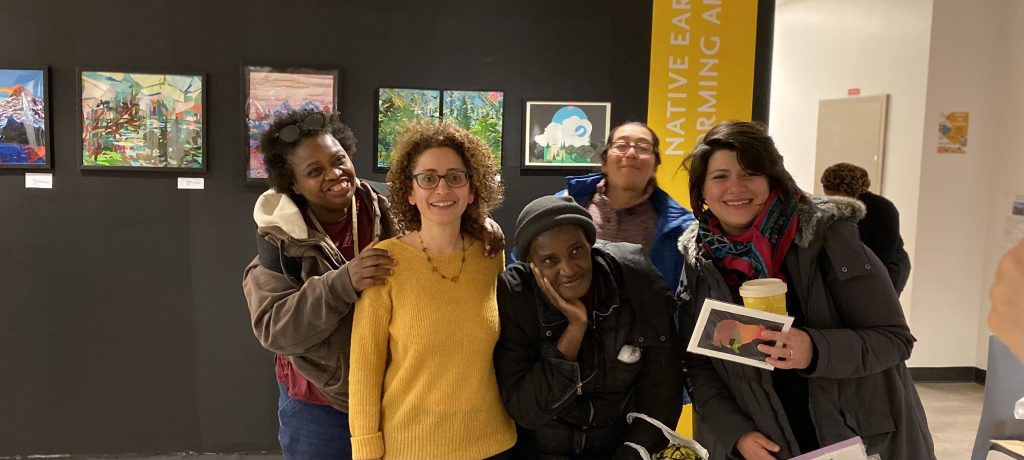 Location
465 Dundas St. E.

Contact
Danielle Koyama / Fiona Husband
416-203-4506
COAST (Community Outreach and Support Team)
A low threshold, outreach-based intensive case management team is dedicated to building relationships and engaging with individuals who may have multiple barriers to access services in the downtown east.
The program is a 2 year pilot project funded by the City of Toronto as part the Downtown East Action Plan.
Location
465 Dundas St. E.

Contact
Sheryl Lindsay
416-364-2261 ext. 2226
Shower and Laundry Program
The absence of showers and laundry services is a significant problem for people experiencing homelessness. 
We provide a daily shower and laundry program offering service 5 days a week.  Shower and Laundry are available on a first-come-basis.  Each person checks in with staff and waits their turn.  Services are primarily for homeless adults. Staff are also available to help connect community members to services and supports such as health care, identification services, income supports and shelter and housing.
Location
465 Dundas St. E.

Hours
Monday: 9am – 3:30pm
Tuesday: 12pm – 3:30pm
Wednesday: 9am – 3:30pm
Thursday: 9am – 12pm (women), 12pm – 3:30pm (coed)
Friday: 9am – 3:30pm

Contact
Dean Reid
416-203-4506
W.O.W. (Wednesday One-Stop Walk-In)
W.O.W. (Wednesday One Stop Walk-in) is a program that is designed to increase access to a wide range of health care services for vulnerable and homeless clients.
People who are homeless, marginally housed, seniors with cognitive impairment and people with mental illness sometimes have difficulty keeping scheduled appointments.  This program gives them access to services such as clinical care with physicians, nurses/nurse practitioners, case management/social work and housing without a prior appointment and minimal waiting time.
Location
465 Dundas St. E.

Hours
Wednesday: 9:30am – 11:30am

Contact
W.O.W (Wednesday One-Stop Walk-in)
416-203-4506
Street Harm Reduction Outreach
The community outreach worker and harm reduction worker connect with homeless clients to develop ongoing relationships, assist with information and referral and provide individual advocacy resources, referrals as well as short and long term supports to people on the street.
Our outreach worker can help with a range of issues include housing, income supports, medical referrals, access to harm reduction supplies and supports to deal with substance use.
Location
Street outreach
Hours
 Daytime and evening outreach times
Contact
Kate Uffleman/Lindsay Windhager
416-203-4506
The women's art afternoon is a weekly community art project that allows women who share the common experience of poverty and homelessness to engage in art making within an open concept. 
The program provides a wide range of art activities in a supportive environment.  The program is offered at the Adelaide Resource Centre for Women.
Location
Adelaide Resource Centre for Women,
67 Adelaide Street E., 3rd floor
Hours
Thursday: 1:30 pm – 4 pm
Contact
Josie Ricciardi
416-203-4506
Informal Intake: new clients must be currently homeless
Health Card and ID Project
Identification is necessary to apply for subsidized housing and income assistance programs (such as Ontario Works), receive appropriate health care and access many other programs and services in Canada. The health care and identification replacement clinic is a joint partnership with the Street Health Community Nursing Foundation and is held on the third Wednesday of each month.
Staff are available to process birth certificates, record of landing (ROL) social assistance number cards and to help with health card replacement.
Location
465 Dundas St. East
Please check-in with 1st-floor Reception for location

Hours
Every 3rd Wednesday of the month: 10am – 12pm
Contact
Dean Reid
416-203-4506